Frustrated because you can't use your factory navigation's destination entry mode while your vehicle is in motion? Annoyed that the front seat passenger can't play the in-dash DVD player when the car is in gear? Generally aggravated by the locks and controls built into the OEM GPS and video systems of your car or truck? At Cinemagic Automotive Electronics, we have a solution! Using NAV-TV's innovative technology, we can help you get the absolute most out of your ride.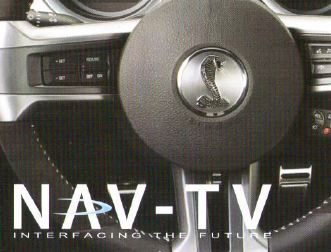 These systems from NAV-TV unlock factory navigation and video equipment to unleash their full potential. Enabling you to fully access your vehicle's built-in electronics as well as interface with some aftermarket additions, NAV-TV lets you utilize the systems you already have in a whole new way. Whether the vehicle is in gear or actively in motion, we can install the components to ensure you can use all of your car's features!
Think of NAV-TV as the key to unlocking:
DVD video in motion
Navigation destination entry in motion
Bluetooth
Voice recognition
External A/V input integration
These systems can generally also program the factory display to show aftermarket rearview, front view, or baby cameras in all gears as well as output from the factory DVD player to aftermarket screens. In short, NAV-TV systems from Cinemagic Automotive Electronics enable you to access all of the capabilities (and more) of your vehicle all the time. For a free estimate, contact us now!
Install NAV-TV for Your Car or Truck
NAV-TV systems are available for a full range of makes and models, so no matter what type of car, truck, or SUV you drive, we should be able to unlock your factory DVD and navigation system.
At Cinemagic Automotive Electronics, we provide professional installation workmanship for NAV-TV, systems to ensure they perform at their best. The goal is to unlock your vehicle's OEM electronics, not wreck the whole system. So don't let amateurs near your GPS or DVD player when it comes to NAV-TV installation. We have the experience and expertise you can trust in Pittsburgh!
And don't forget, we also offer NAV-TV's Tooki technology for Bluetooth integration. Providing a unique system that fully integrates with your factory radio, we can help you get the convenience and safety of hands-free driving with Tooki.
Click Your Make for More Info!